Special Events taking place in collaboration with the Cape Ann Museum and Rocky Neck Art Colony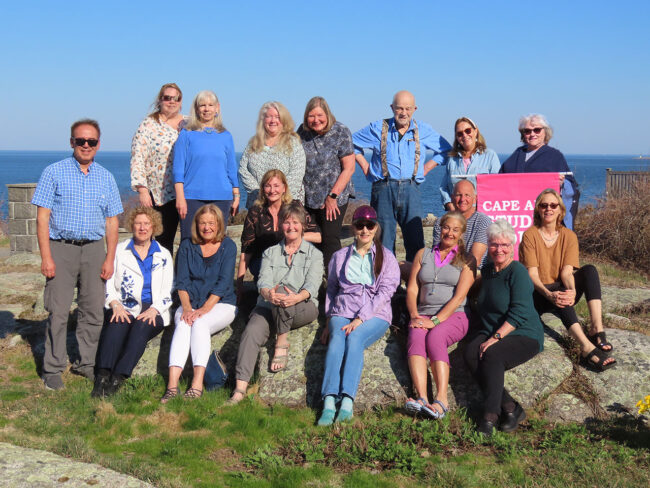 Roll out the pink carpet – the 40th Annual Cape Ann Artisans Open Studio Tour is just one month away!   As the Artisans approach their 40th and Gloucester marks its 400th, there's much to celebrate with a full calendar in 2023.
The Artisans welcome their newest member, Danette English in her Lanesville ceramic studio.  Danette shares her story and work in a recent blogpost, "In 2019 my dreams came true and I moved to Lanesville. I have a studio in my backyard that has my kiln and two pottery wheels. I have been making art and teaching it for most of my life; having a dedicated studio of my own has been an aspiration for a very long time."
Beth Williams, of Gloucester, a long-standing member of the group has returned after a sabbatical and is celebrating her 30th year in her downtown studio as a working jewelry designer.  Beth is bursting with new designs using layers of beads and miniature glass sculptures to create exquisite floral patterns.   She continues to expand her creative palate in her jewelry and her studio garden which will also be on display this year for the Generous Gardener's Garden tour in July.   Catch important new developments from Deb Gonet, Rebecca Anne Nagle, John Abisamra, Melody Phaneuf, Deb Schradieck, Jacqueline Ganim-DeFalco, and Sinikka Nogelo in the "from the Studio" blog on the CAA website (News).
May 5th-7th three teams of Cape Ann Artisans will participate for the first time in Cape Ann Museum's (CAM) "Cape Ann Blossoms" event.  The Artisans were asked to create non-living "floral-adjacent" displays inspired by the paintings designated by the Museum.  Artisans' teams and painting-pairings are as follows:
Sinikka Nogelo, Rob Diebboll, & Jacqueline Ganim-DeFalco – Mary Blood Mellen (1819—1886), Coast of Maine 1850s, oil on canvas.
Pam Stratton and Beth Williams – Fitz Henry Lane (1804—1865), New England Harbor, c. 1850s, oil on canvas.
Deb Gonet and former Artisan Terry del Percio-Piemonte -William Meyerowitz (1887-1981), Meyerowitz's Garden, 1924, oil on canvas.
Melody Phaneuf just completed her second painting class at the CAM Green based on the popularity of her first earlier this year.  Timed to coincide with Earth Day, Sinikka Nogelo and Rebecca Anne Nagle held a "Trash Art" Workshop in April and the work will be on display at the CAM's White-Ellery House beginning May 12th.   Next the Spring Open Studios Tour takes place June 3rd and 4th.   After the tour on July 8th Marcie Rae will be offering a jewelry workshop, also in partnership with the CAM.
Thinking ahead to the Fall, the Artisans have issued an invitation to past Cape Ann Artisan members to join in a month-long exhibit at the Rocky Neck Cultural Center. September 28-October 29.  The deadline for expression of interest is fast approaching and former artisans are encouraged to check the website if they haven't received an email.
This year presents a powerful collaborative opportunity between the Artisans, Rocky Neck and the Cape Ann Museum, working together to promote art-making and learning within the community.  Programming has been designed to recognize "40" in the 400th celebration of Gloucester's quadricentennial.
It is highly recommended to do a little advance planning for the tour and map out those must-see studios on your list for the weekend.   A great place to start is to review the NEW 2023 brochures which include a map and all necessary contact details.  You can also get a sneak peek by watching the new CAA video. Brochures are available at all the major tourism outlets including the Cape Ann Chamber, Discover Gloucester, the North of Boston CVB, and most hotels and restaurants.  The new brochure is also posted online here for download.  The tours are self-guided with 17 individual stops to visit with 18 artisans.   The full group is listed alphabetically below along with their medium:
John Abisamra – Landscape Photography
David Archibald – Ceramic Arts – Porcelain & Stoneware
Cynthia Curtis – Ceramic Arts – Stoneware
Rob Diebboll – Painting – Oil & Watercolors
Danette English – Ceramic Arts
Jacqueline Ganim DeFalco – Sea Glass Wearable Art – Hair Accessories and Jewelry
Deborah Gonet – Painting & Mixed Media
Rebecca Anne Nagle – Painting & Mixed Media
Sinikka Nogelo – Painting & Sculpture – Experimental Arts
Melody Phaneuf – Painter – Oils
Scott Place and Erin O'Sullivan – Ceramic Arts
Marcie  Rae – Fine Jewelry
Deb Schradieck – Painting – Oil & Watercolor
Sallie Strand – Painting – Abstract
Pam Stratton – Mosaics, Mixed Media & Jewelry
Beth Williams – Handmade Art-Glass Beads & Jewelry
Sara Wright – Fiber Arts – Handwoven & Knitwear Accessories
_________________________________________________________
What:  The 40th Annual Cape Ann Artisans Open Studios and Celebration
Where: Gloucester and Rockport, MA.
When:   Spring Tour: Sat & Sun, June 3-4
Upcoming Special Events:
May 5th – 7th  Cape Ann Blossoms – see Cape Ann Museum website for tickets for opening night
May 12th – 21st – Trash Art Installation – White Ellery House
July 8th – Jewelry Making Workshop – Marcie Rae – see Cape Ann Museum for registration
Questions? Contact info@capeannartisans.com or leave a message with Cynthia Curtis 978-546-6186